William Newman (born c. 1649, flourished 1670–1694) was an English woodcarver (ornamental sculptor) of the Restoration period . He collaborated in the furnishing of the churches of the City of London rebuilt by Sir Christopher Wren after the Great Fire of London . A number of his works survive including some of his preparatory drawings. It has been emphasised that, despite the persistent idea that Grinling Gibbons was responsible for much of the carving in the rebuilt City churches, in the building accounts and parish minute-books Gibbons's name appears only once, in connection with the exceptional altarpiece at St Mary Abchurch , a church which also contains carvings by William Newman and William Emmett.
Font and pulpit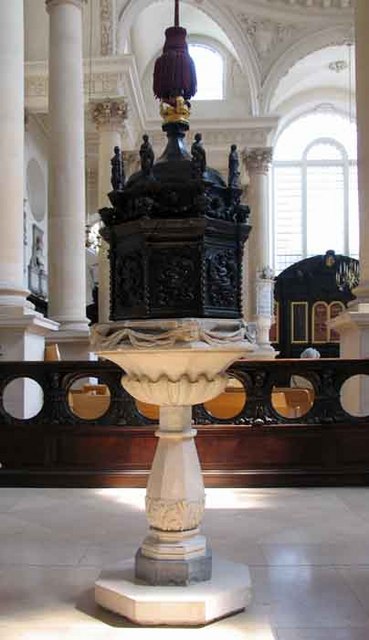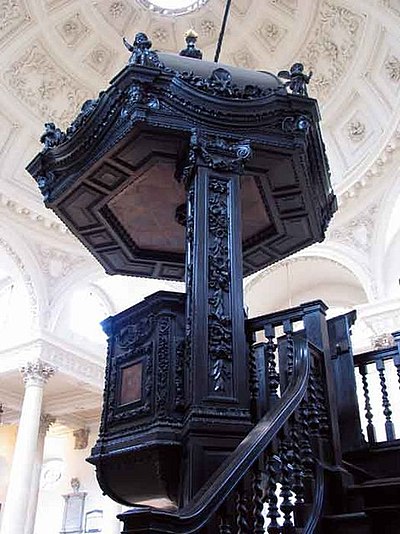 The wooden furnishings of St Stephen Walbrook were prepared by the carpenters Thomas Creecher and Stephen Colledge, and the
carvers William Newman and Jonathan Maine. Newman rendered accounts in 1677–78 for the altarpiece, which incorporated the Royal Armsinow mounted on the organ-casing. The Guildhall Collections also include designs by Thomas Creecher and William Newman for the pulpit and font, which were submitted competitively for selection. Newman's accounts refer to '36-foot of huske at 6d. per foot': '6 Boys an festoones at 30s each': '30-foot of Lace at 2d per ft': '30 foot of large Rafel leaves at 1s per ft', and so forth. His work for the 'tipe and pulpit', the 'altarpiece', the 'raile and banesters' and the 'fonte' (he carved eight small figures for the font-cover) was appraised and valued on 27 April 1680. In 1681–82 Creecher and Newman were again employed to construct wainscots ten feet high for the Vestry room, and screens for the east and west doors.