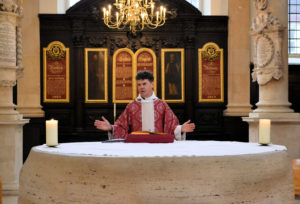 You can find video recordings of our Sung Eucharist on our Online Services page.
From Thursday 9th July 2020 we are able to hold public worship and will celebrate the Eucharist as usual on Thursdays at 12.45pm.
In normal circumstances, we would gather together every Thursday lunchtime at 12.45pm to celebrate the Eucharist. Our choir would sing beautiful music, including a mass setting, introit and motet and a hymn. To stop the spread of Covid-19, there will be no live music for the time being, seating will be strictly controlled, communion will be distributed in one kind only and we will not be able to gather after the service for our usual lunch. Please only travel to church if you feel safe to do so.
We will continue to record our services and upload them to the website, which we hope to post as soon as possible after the videos have been edited and produced, usually by Saturday evenings at 6pm. We hope to include as much music from our choir as we can, using archive material.
Catch up with previous recordings at the links below:
Sung Eucharist – 30th July 2020 – Trinity 7 – Fr Paul Kennedy preaching and celebrating.
Sung Eucharist – 23rd July 2020 – Trinity 6
Sung Eucharist – 16th July 2020 – Trinity 5
Sung Eucharist with renewal of baptismal vows and lighting of the Paschal Candle – 9th July 2020 – Trinity 4
Sung Eucharist – 2nd July 2020 – Trinity 3
Sung Eucharist – 25th June 2020 – Trinity 2
Sung Eucharist – 18th June 2020 – Trinity 1
Sung Eucharist – 11th June 2020 – Trinity
Sung Eucharist – 4th June 2020 – Pentecost
Sung Eucharist – 28th May 2020 
Sung Eucharist – 21st May 2020 – Ascension Day
Sung Eucharist – 14th May 2020
Sung Eucharist – 7th May 2020 – with Commemoration of the 75th Anniversary of VE Day
Sung Eucharist – 30th April 2020
Sung Eucharist – 23rd April 2020 – St George's Day
The Great Vigil & First Eucharist of Easter – 11th April 2020
Sung Eucharist – 9th April 2020 – Maundy Thursday
Sung Eucharist – 2nd April 2020
Sung Eucharist – 26th March 2020 – Mothering Sunday & The Annunciation of the Blessed Virgin Mary