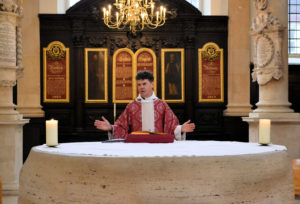 You can find this week's 'virtual' Eucharist on our Online Services page together with recordings of the weekly bible reading and our weekly Start:Stop reflection.
Although the doors of our building are closed to reduce the spread of Covid-19, our church and our hearts remain ever open.
In normal circumstances, we would gather together every Thursday lunchtime at 12.45pm to celebrate the Eucharist. Our choir would sing beautiful music, including a mass setting, introit and motet and a hymn.
During the lockdown, to reduce the spread of Covid-19, the Eucharist will be celebrated every Thursday lunchtime by Reverend Stephen in private. You can join in by watching the video recordings which we hope to post as soon as possible after the videos have been edited and produced. We hope to include as much music from our choir as we can, using archive material.
Unfortunately we will not be able to gather, as usual, for a light lunch after the service, but hope to be able to welcome you back to St Stephen Walbrook in person very soon.
To join us for this week's 'virtual' Eucharist, please go to our Online Services page.