Choral Classics at St Stephen Walbrook offer thirty minutes of sublime choral music from the Choral Scholars of St Martin-in-the-Fields interspersed with readings on a theme.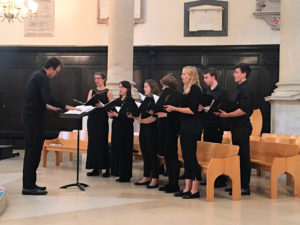 Choral Classics takes place on Mondays from 1.00 – 1.30pm.
To find out more about upcoming services, themes and speakers please visit our Events page
Monday 3rd June : God is Gone Up – a celebration for Ascension-tide
Monday 10th June : Faith, hope and love – Faith
Monday 17th June : Faith, hope and love – Hope
Monday 24th June : Faith, hope and love – Love
Monday 1st July : The Stars and Stripes Forever – Celebrating American Independence Day with works by Copland and Bernstein
Choral Classics takes a break during July and August and returns with the new term in September.
Choral Classics services have been supported by The Worshipful Company of Grocers, for whose generous support we are most grateful.