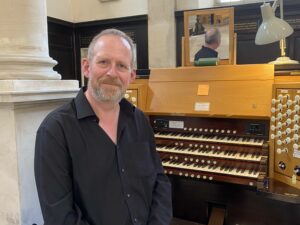 We are delighted to be able to re-start our Friday lunchtime Organ Recitals which resumed in July with Michael Cayton (pictured).

Please join us each Friday from 12.30pm-1.15pm as we welcome visiting organists to play a varied programme. Please bring your lunch if you wish and come and go as your schedule requires.

To whet your appetite here's a video recording made by David Cook a few weeks ago, performing Joseph Jongen's Toccata pour Grand Orgue. 




St Stephen Walbrook Organ Recital Programme
July – December 2021
| | |
| --- | --- |
| 02/07/2021 | Michael Cayton |
| 09/07/2021 | Philip Berg |
| 16/07/2021 | David Cook |
| 23/07/2021 | John Webber |
| 30/07/2021 | Joshua Xerri |
| 06/08/2021 | Peter Yarde Martin |
| 13/08/2021 | Matthew Burgess |
| 20/08/2021 | Peter Stokes |
| 27/08/2021 | Michael Stephens-Jones |
| 03/09/2021 | James Norrey |
| 10/09/2021 | Stephen King |
| 17/09/2021 | David Cook |
| 24/09/2021 | Jonathan Dods   ** NOTE DIFFERENT START TIME – 12.00PM ** |
| 01/10/2021 | Phoebe Tak Man Chow |
| 08/10/2021 | William Saunders |
| 15/10/2021 | Marion Bettsworth  |
| 22/10/2021 | Matthew Blaiden ** NOTE DIFFERENT START TIME – 1.00PM ** |
| 29/10/2021 | Edward Gaut |
| 05/11/2021 | Tim Easter |
| 12/11/2021 | Anthony Gritten (Bach's Leipzig Chorale Preludes – Part 1) |
| 19/11/2021 | Anthony Gritten (Bach's Leipzig Chorale Preludes – Part 2) |
| 26/11/2021 | Mark Brafield |
| 03/12/2021 | Christian Grautsch |
| 10/12/2021 |   |
| 17/12/2021 |   |
| 24/12/2021 | No recital |
| 31/12/2021 | No recital |