Anniversary Events at St Stephen Walbrook
Throughout 2023
* 350th Anniversary of our present building
* Tercentenary of the death of its famous architect, Christopher Wren
* 70th Anniversary of the founding of The Samaritans at St Stephen Walbrook

2023 marks the 350th anniversary of our present building and the three hundredth anniversary of the death of its architect, Christopher Wren – as well as the 70th anniversary of the founding of the Samaritans. Keep a check of this page for details of special events and services taking place throughout the year at St Stephen Walbrook to mark these important anniversaries.  Details of events held elsewhere as part of the Wren300 celebrations can be found at this link.
Forthcoming Events
---
Wren Churches Guided Walking Tour
Saturday 29th April 10am-12pm
A guided walking tour of some of Wren's greatest city churches, starting at St James, Garlickhythe then visiting St Stephen Walbrook, St Margaret Lothubury, St Mary le Bow and ending at St Vedast-alias-Foster. 
To sign up please email info@stmarylebow.org.uk
---
Wrenathon
Saturday 24th June 2023 time TBA
Hear Wren's city churches filled with song in the Wrenathon, a celebration of community singing and Wren's historic architecture. Featuring choirs from across the City of London and beyond, this 12-day festival takes place across multiple churches associated with architect Christopher Wren, marking his tercentenary. Culminating in a choral marathon on Saturday 24th June 2023, audiences will be taken on a musical journey throughout the city and experience the power of singing to transform spaces and bring people together. Choirs interested in taking part can email wrenathon.wren300@london.anglican.org for further information. We look forward to our Community Choir joining others at St Stephen Walbrook as part of the Wrenathon. Times to be announced.


---
Past Events
Anniversary Service with Bishop Nicholas Holtam
Tuesday 21st February 2023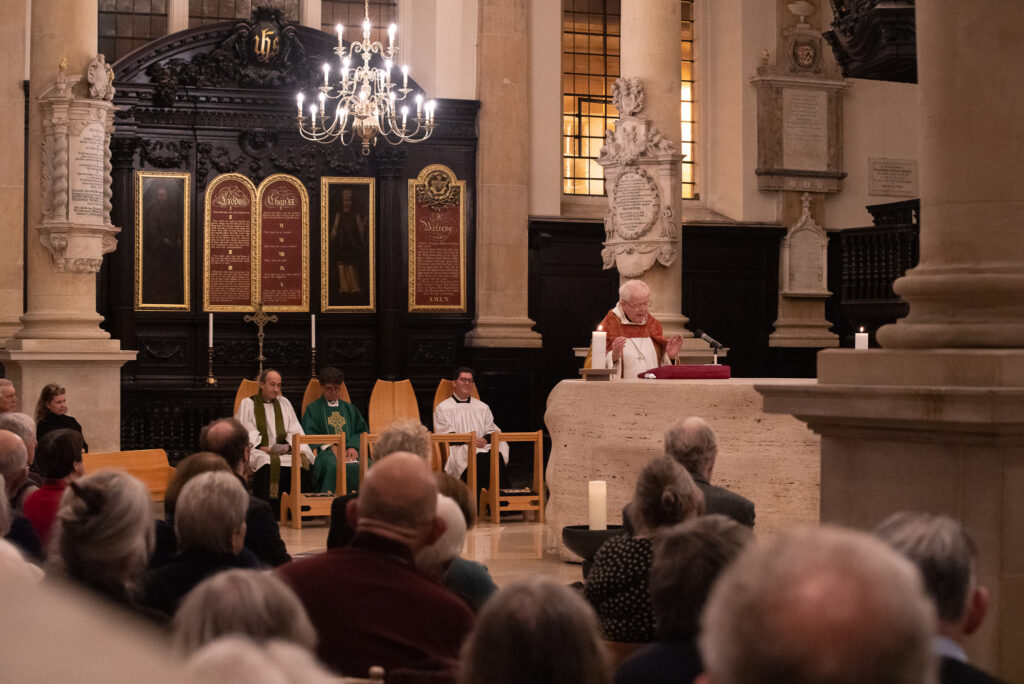 Thank you to everyone who joined us for this special service. We are indebted to Bishop Nicholas Holtam for his wise words and to Luka Pajovic for his address on the global significance of this building (which you can read at this link). Watch the recording at this link. Pictures by Robert Crowley Photography are available at this link. 
---
Wren Conversations: Building Cities
Wednesday 22nd March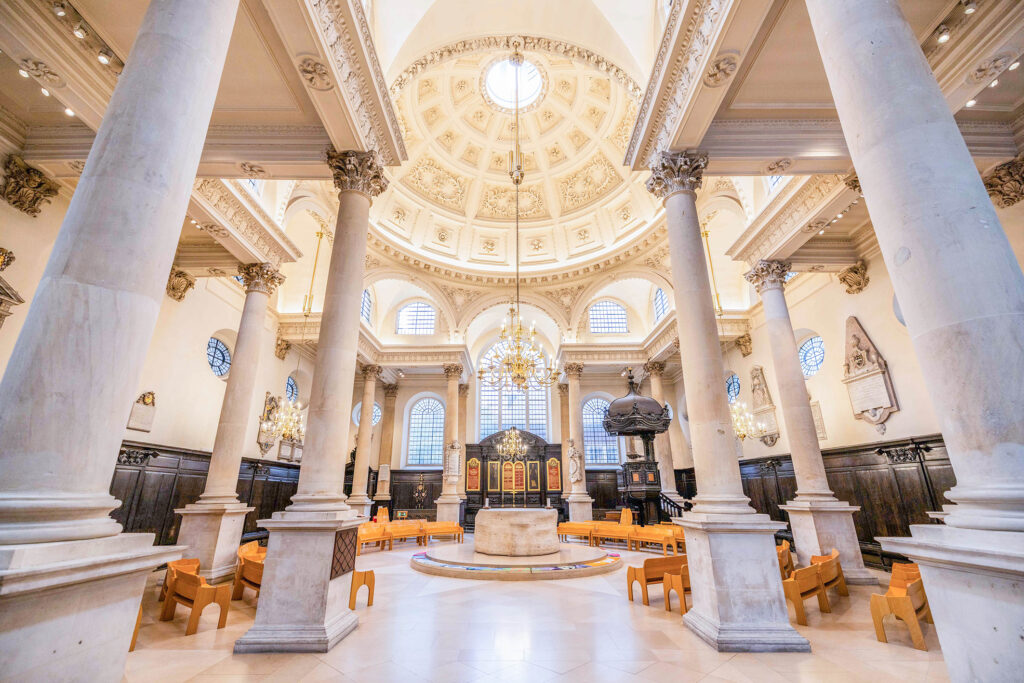 This conversation discussed the opportunities and challenges of designing buildings in historic settings such as the City of London and touch on concerns such as pollution in cities in Wren's time and today, City infrastructure, the needs of the community, and the future of City churches.

Chair : Sir David Bell
Panellists : Amanda Levete, Sumayya Vally, Rab Bennetts
Organised by : The World Monuments Fund
More information here.


---
Wren 300 Music and Art Workshops
March 2023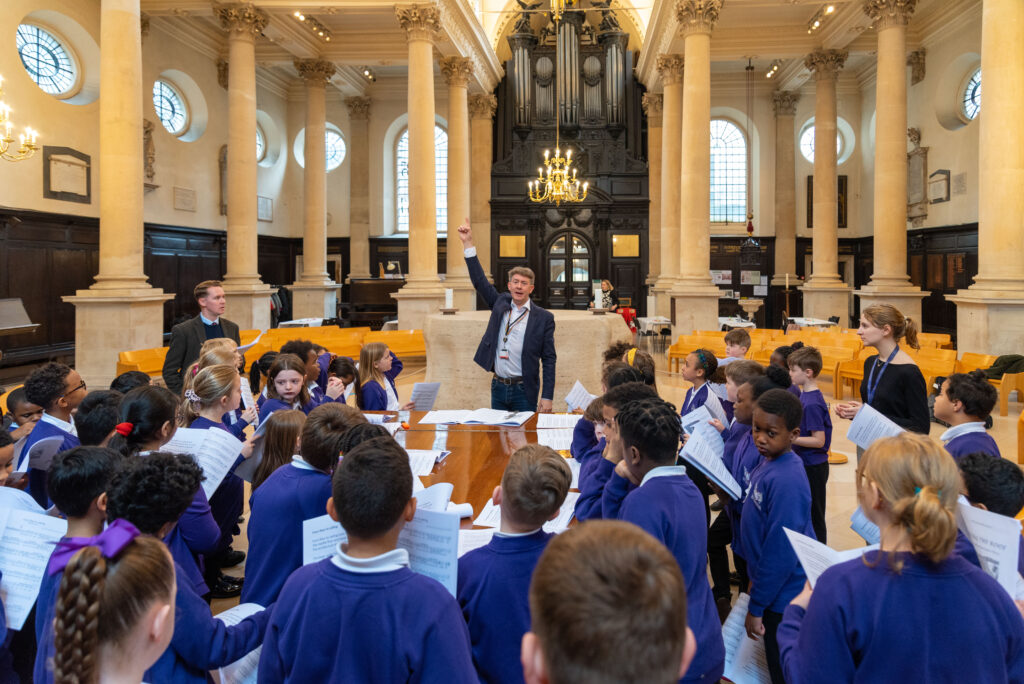 Over the past few weeks we have been delighted to welcome hundreds of students from across London into the church as part of our ongoing celebrations of the Tercentenary of the death of Sir Christopher Wren. The students took part in music workshops led by Richard Quesnel, Director of Music at the City of London School and paper cutting workshops led by artist Chloe Campbell, inspired by our beautiful church – Sir Christopher Wren's masterpiece! You can purchase limited edition greetings cards based on a papercut of our beautiful dome, specially commissioned by Chloe to mark our anniversary year. More details at this link.  More photographs, taken by Toby Sheldon of the City of London School, at this link.


---
Tercentenary Festival with The Orchestra of the Age of Enlightenment
Thursday 20th April 2023 – Saturday 22nd April 2023
The Orchestra of the Age of Enlightenment and St Stephen Walbrook joined forces to present a three-part festival of music commemorating the church's architect, Sir Christopher Wren. The festival offered a snapshot of musical life at the point of Wren's death, three hundred years ago in 1723. This was the year of Vivaldi's Four Seasons and the year Bach was appointed cantor in Leipzig; it was also a time of rebirth for London following outbreaks of bubonic plague and the Great Fire, with Henry Purcell at its forefront.

Over 500 people joined us to hear the fantastic music. A huge thank you to Artistic Director Anthony Friend and Stage Manager Fergus Marr for their support.

The OAE is a pioneering orchestra of specialists on historical instruments founded in 1986. Performing repertoire on instruments (or replicas) from the time the music was written, they are not aiming to recreate the past, but to create something that is exciting now, using historical information. With no music director, the musicians call the shots, offering trailblazing performances of music from throughout history.
---