Rush Hour Jazz 
Monthly
5.30pm-6.45pm
* Fantastic Jazz Music!
* Drop in on your way home from the City
* No need to book in advance
* Come & go as you please
* Stay as long as you are able
* Free entry – pay what you feel! Donations appreciated. 
* Space for socially distanced seating

Rush Hour Jazz is part of our ministry of wellbeing, bringing a smile to the Square Mile! Held every month from February to November (except August) from 5.30pm-6.45pm, no need to book tickets or register attendance in advance. Entry is free – pay what you feel; all donations are appreciated. Socially distanced seating available. 

Just drop in for as long as you are able and enjoy fantastic music from talented jazz artists in our amazing building on your way home from the City.

Slow down in style with Rush Hour Jazz in the Square Mile!

Wednesday 1st February 2023 – 5.30pm-6.45pm with Grace Notes Collective 
Thursday 2nd March 2023 – 5.30pm-6.45pm with the Alex Moss Quartet
Thursday 13th April 2023 – 5.30pm-6.45pm with the Isobel Gathercole Trio
Thursday 4th May 2023 – 5.30pm-6.45pm with the Dan McConkey Trio
Thursday 1st June 2023 – 5.30pm-6.45pm with Grace Notes Collective 

St Stephen Walbrook is located opposite the Bloomberg Building, between Bank Station and Cannon Street Station at the heart of the City of London. Directions at this link. We regret that there is presently no level access into the church building.

Here's an audience eye-view from Rush Hour Jazz in 2022:


Image Credits  
Photography : Robert Crowley Photography
Video : Zach Gerard Productions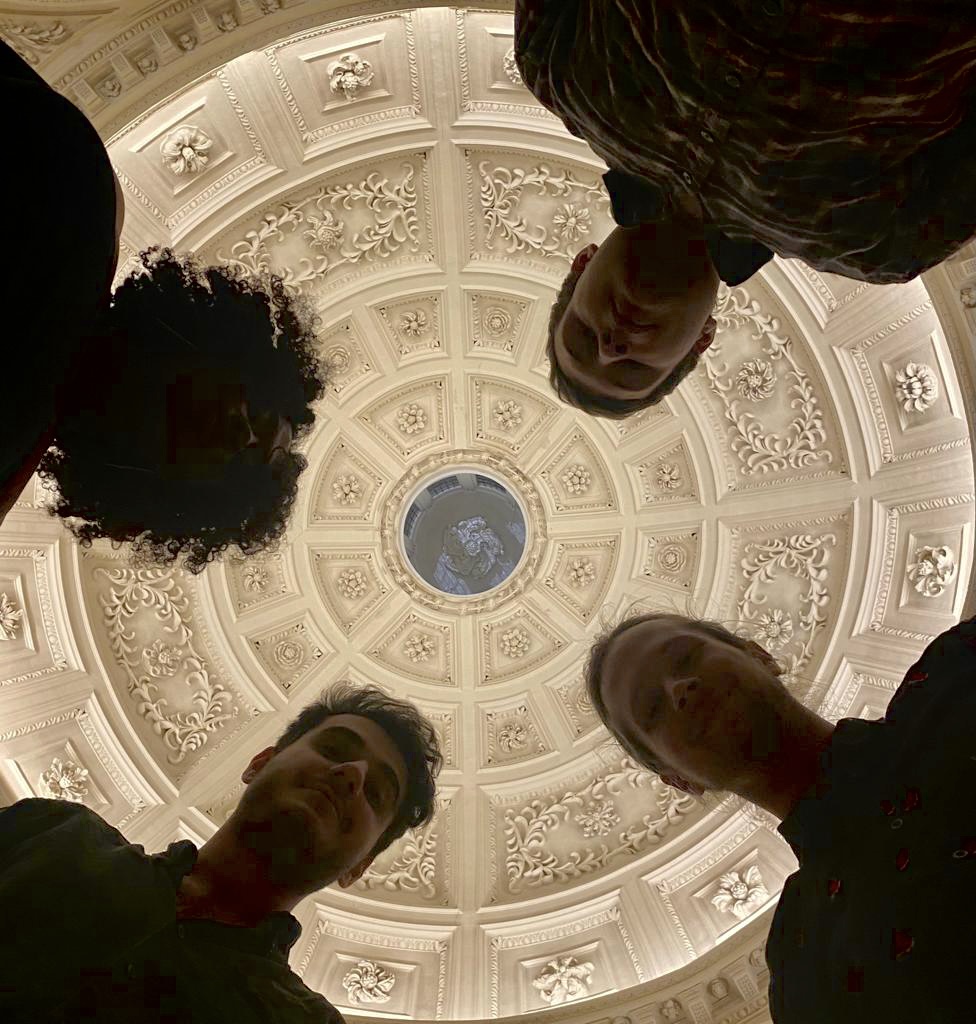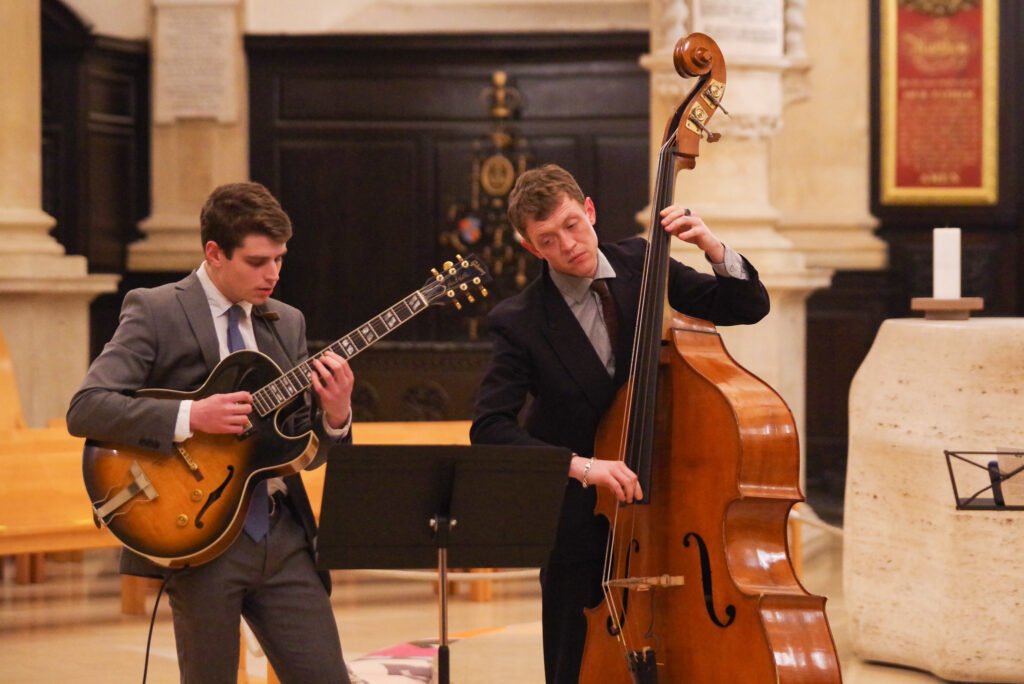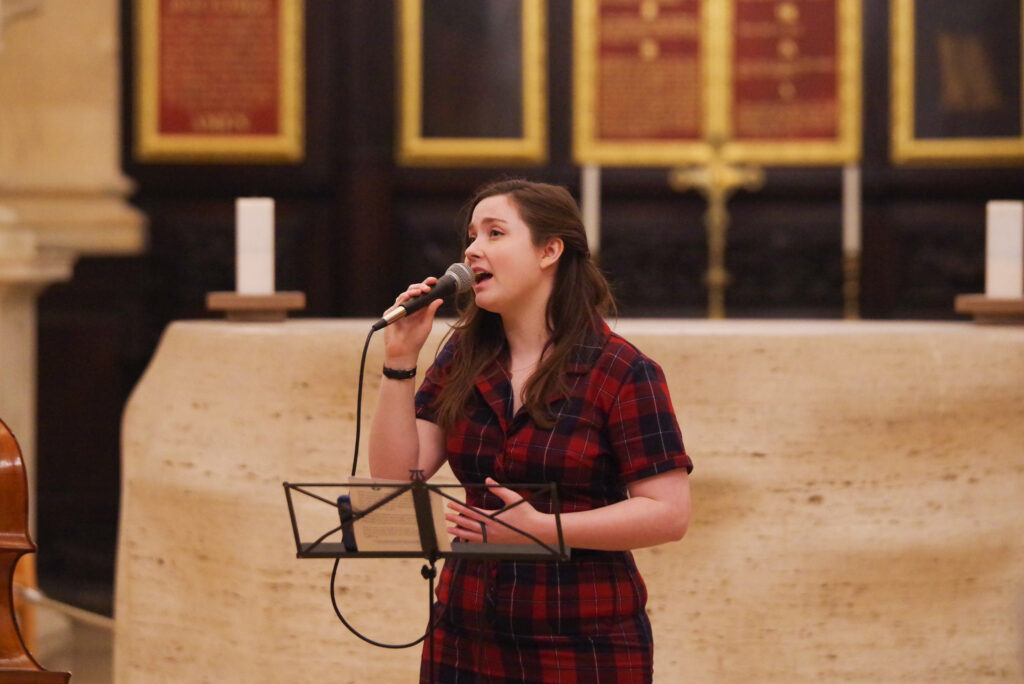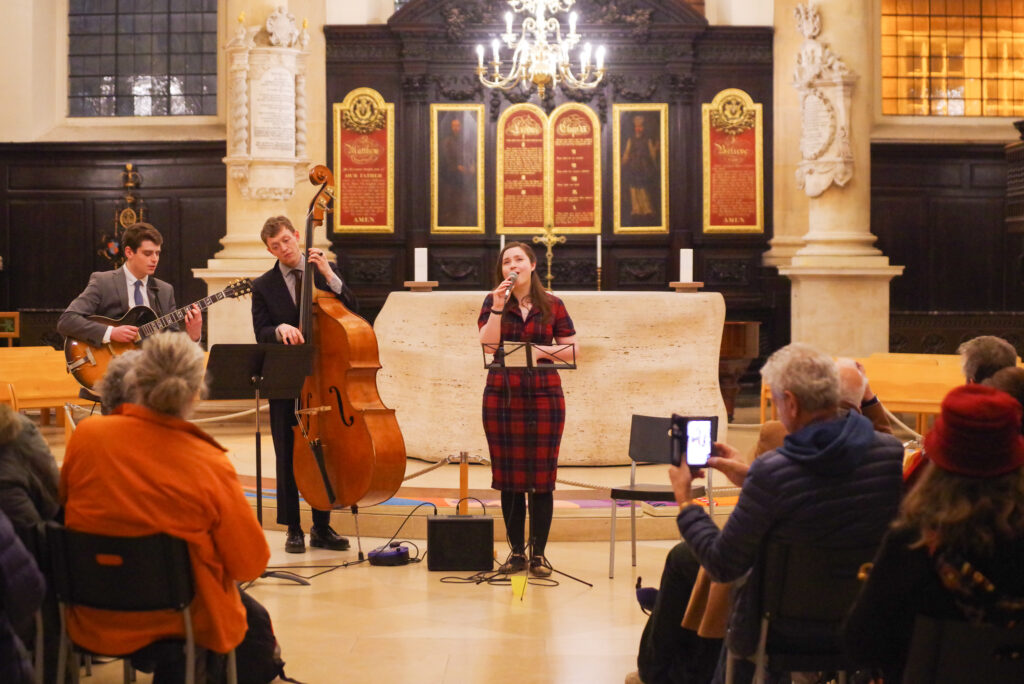 Artist Biographies

 
 
RIRI & the WB's

The soulful Rianna Walcott sings with a style reminiscent of influences as diverse as Sarah Vaughan to Erykah Badu. Having performed in various combinations between Edinburgh, Glasgow, London and Los Angeles over the last decade, her band distils the best elements of a journey into jazz and soul.
 
 
Isobel Gathercole Trio

Isobel is a jazz singer based in London. She trained in jazz vocals at the Guildhall School of Music and Drama and has been performing at many of London's top jazz venues since arriving on the scene in 2014; including Ronnie Scott's, the Vortex and the Spice of Life. Isobel developed her love of jazz and the Great American songbook at a very young age and started singing seriously at the age of 11. Since then she has had the opportunity to sing with ensembles of all shapes and sizes from her vocal/guitar duo to playing with a full sized studio orchestra in a tribute to the work of Jeremy Lubbock alongside fellow soloists Lianne Carroll, Joe Stilgoe and Tommy Blaize. She has also explored big band singing through her work as a vocalist with the National Youth Jazz Orchestra, in addition to small group work with her own quartet. Her upcoming debut album in collaboration with arranger and composer Colin Skinner is a love letter to the legendary albums of Ella Fitzgerald and Frank Sinatra is due to be released on the Acrobat Label in April 2022. Isobel was delighted to get some pre-release airplay courtesy of Clare Teal on her Jazz FM show.

'Isobel has an innate musicality for sure but more impressive is her natural vocal swagger, a rare commodity, putting you 'the listener' immediately at ease.'
Matt Ford – jazz and big band singer

'She sounds so authentic and stylish but fresh at the same time'
John Wilson – conductor

Follow Isobel on Instagram
 
 
Grace Notes Collective



Luke Bacchus – Piano (BBC young jazz musician finalist – watch the final

at this link

(see Luke from 26 mins in!)

Sam Brown – Alto Saxophone

Jedd Bailey-Smith – Double Bass

Grace Notes works with London based musicians, dancers, and artists to explore faith, spirituality and worship. The collective aims to bring communities together through expression and creativity in different social settings.

Follow Grace Notes Collective on Instagram

 
 
Alex Moss Quartet



A former choral scholar at St Stephen Walbrook, Alex is a talented London-based Jazz Singer and Postgraduate Jazz Student at the Guildhall School of Music & Drama. She joins us with her quartet of equally talented musicians. Watch a clip

at this link.