Phillip Dawson reports on the 2019 Bank Churches Lent Lecture, which was delivered by Bishop Martin Lind, Bishop of the Lutheran Church in Great Britain and an expert in the life and work of Dietrich Bonhoeffer (1906-1945), the Lutheran pastor and theologian who resisted the Nazis and was killed in 1945 at the age of 39 in a concentration camp.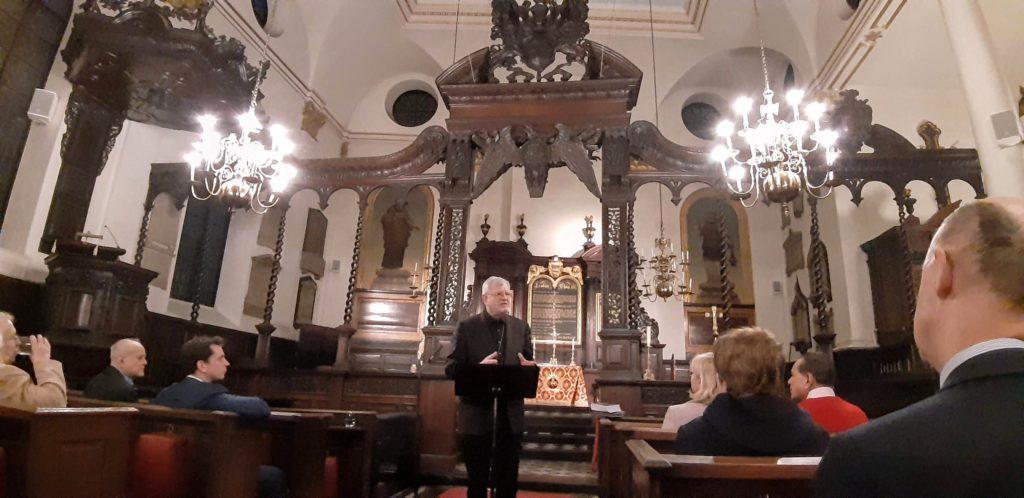 Bishop Lind, whose book 'In God we live without God' offers prayers and reflections inspired by Bonhoeffer's writings, has said that "Bonhoeffer's texts are still of tremendous importance, I would say – challenging, questioning, raising uncomfortable issues that are so crucial. Bonhoeffer's questions concern not only our attitude towards other people, but also towards ourselves and our understanding of God and Christ in this world. He helps us to raise questions rather than stubbornly maintain answers."

"Every human life is irreplaceable." 

Bishop Lind began his talk by quoting from one of Bonhoeffer's letters from prison, written to Eberhard Bethge in December 1943, when the 37 year old Bonhoeffer was facing the prospect of his first Christmas behind bars. The quote reminds us of Bonhoeffer's humility. Bonhoeffer knew of his own fame – he was widely respected as a theologian from an early age – his PhD thesis became a worldwide bestseller, even Karl Barth quoted from it – but Bonhoeffer did not court fame or believe his gifts were unique. Every human life is irreplaceable. In another of his letters, written on July 21st 1944, a day after a failed assassination attempt on Hitler, Bonhoeffer recalls a meeting at a cafe in New York in 1939 when a friend asked him what he most wanted in life. At the time he could not answer (his friend wanted to be remembered as a saint). Bonhoeffer's direct involvement in the assassination plot is a subject of debate, but it is likely that he was aware of it. The next day, he was able to answer the question he had been asked five years earlier. What he most wanted in life was to "be human."

Bishop Lind explained that Bonhoeffer believed we are most human when we are most vulnerable. It is at these times that we are closest to God – a relationship which has its most perfect, most complete expression in Jesus on the cross. But at the same time we are always apart from God. We experience these moments of fragility when we are intoxicated by love, or when we find ourselves stretched – torn almost to breaking point between difficult choices.

As Bishop Lind described his life, moments of tension seemed to be a feature of Bonhoeffer's formation from an early age. Born into a wealthy and educated family, dinner parties turned into seminars on politics and philosophy – but never religion. His father, Karl, a respected professor of Psychiatry in Berlin, felt theology was something for the past, not the future. But the dinner parties fell silent after the death of Dietrich's older brother, Walter, in WW1. Encouraged in his radicalism by his poorly educated but sharp-witted grandmother (who later wrote to Gandhi asking him to train Dietrich in non violent resistance against the Nazis – and got a reply!) he announced at school that he would become a theologian and write a book about death, much to his father's disappointment. Bishop Lind explained that although none of Bonhoeffer's later writings bear such a title, the tension between life and death is present in all he wrote and said.
 
The idea of a proud Protestant wanting to go to Rome seems unusual but Dietrich's parents paid for the trip as an eighteenth birthday present. It was in St Peter's Square on Palm Sunday in 1924, watching processions of clergy from around the world, that Bonhoeffer came to marvel at the universality of faith, recording in his diary that he was "beginning to understand the concept of the Church." Bishop Lind explained that another experience stands out from this trip – Bonhoeffer was captivated by the sculpture of Laocoön and His Sons in the Vatican Museum. The work has been described as "the prototypical icon of human agony" – Bonhoeffer seemed transfixed by the agony in the face of the Trojan priest Laocoön, in which he saw weakness and solitude of God the Father in this world – Jesus on the cross.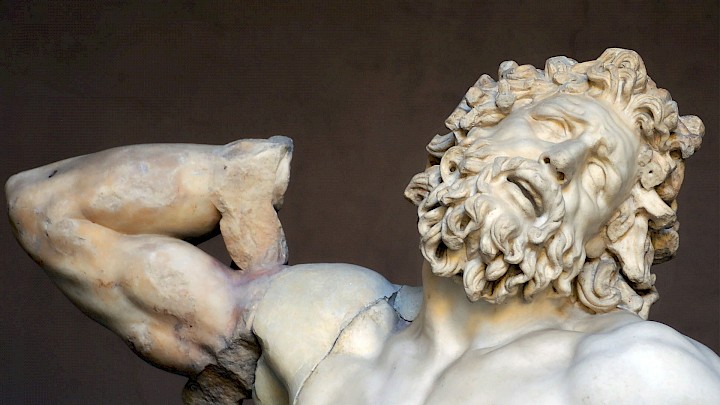 "In God we live without God."

It is in this agony, face to face with our own weakness and vulnerability, when we are closest to our own life – the life that Jesus died to give us. Bishop Martin explained that facing up to solitude was an important part of discipleship for Bonhoeffer, especially during his time in prison. His reflections are particularly appropriate for Lent. We must confront our solitude and our weakness and embrace them. God is not a replacement or substitute in these times – he cannot take away our loneliness or solitude. You cannot blame God for decisions you have taken or use God as justification – decisions taken by your free will are your decisions, not God's. But God is with us, even in our solitude, even in our weakness and when we are at our most fragile. In God, we live without God. This is the tension of faith in which we exist and one which we confront during our reflections during Lent.

Thank you to everyone who organised this year's Lent talk, to Bishop Martin for such an engaging lecture and to Reverends Jeremy Crossley and George Bush for their convivial hosting and repartee.

Bishop Linds Book is published by Sacristy Press. More information here.