Two members of our congregation visit Buckingham Palace and another sings with the Queen of Pop in the Eurovision Final!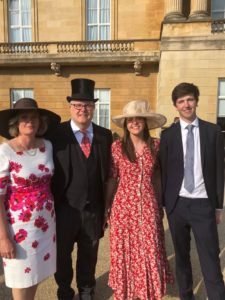 Churchwardens Margaret Brown and James Thompson were invited to a Buckingham Palace Garden Party. James explains : "I was privileged and honoured to be invited for services as a Common Councilman, which includes my current roles as Deputy Chairman of the City of London Police Authority and Chairman of the City of London School. The whole family volunteer and were also invited. Kate currently volunteers as a Community First Responder for the East Anglian Ambulance Service, Bronwen for Riding for the Disabled and Arthur for time working with the Cubs. It was a fabulous experience and I enjoyed meeting officers from the City of London Police."

In more Royal news, Paul de Ridder got a chance to sing with the Queen of Pop! Paul writes :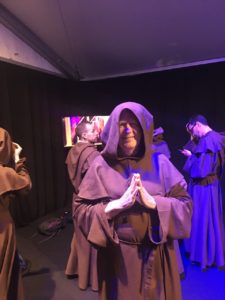 I have been singing in a variety of choirs pretty well all of my life but nothing had prepared me for the incredible events of the last two weekends in May. I have been a member of the London Oriana Choir for six years. Early in May the choir was contacted by an agent with the request whether they could come up with 35 male singers to be available on very short notice for five rehearsal evenings in London followed by five days in Tel Aviv, all expenses paid from 14 to 19th May. All very confidential; we were sworn to secrecy. To make a long story short we had 13 hours of rehearsals in London plus another 13 hours on set in Tel Aviv. The gig? Back-up vocals and choreography – dressed as monks – for Madonna doing her headline act live on stage on the final day of the Eurovision Song Contest at the EXPO arena in Tel Aviv, which was watched by 200 million viewers around the world.

The following weekend the entire London Oriana Choir (all 70 of us) headed off to Rome for a weekend of concerts. In addition to singing in two major Basilicas on Saturday and Sunday evening, we were enormously privileged to sing at the 9:00am Eucharist on Sunday morning in the Vatican which took place at the eastern principal altar in St Peter's, the Chair of St Peter (Bernini). We sang the Introit, Offertory, Communion and Recessional, all a-cappella. What an amazing and moving experience that was.