During Lent at our informal discussion group, we are exploring the Gospel of John – do join us via Zoom on Thursdays at 7.30pm if you can. For more details click here.

One of the distinctive features about the gospel of John is the number of 'asides' or 'stage whispers' if you prefer, often shown in the text in brackets, which add explanatory detail or insights to the narrative; like those moments in plays or on television when the 'fourth wall' is broken and an actor steps outside the world of the production to speak directly to us, their audience, in our time.

In our Start:Stop reflection this week we explore one of these longer 'asides' in which the Beloved Disciple addresses us in his own voice at the end of the first half of his Gospel, known as the 'Book of Signs'. Here, he offers his explanation as to why, despite all the signs that Jesus has performed, the people still do not believe – and even the few who do are nevertheless afraid to publicly proclaim their faith in Jesus as the Christ, the Son of God. John asks us to consider whether we – God's Easter people – are still, like the people of Israel, "nevertheless believers"?

Listen to our reflection at the link above or read the script online here.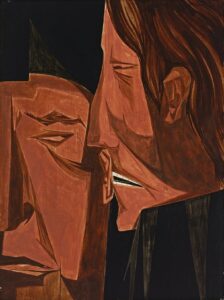 Image : From 'Panel 11' by Jacob Lawrence, 1955