The academic Anna Carter Florence has said that the best literature uses language that moves – and encourages us to read scripture 'verbs first'.

For many centuries, parts of the church seem to have been distracted by the nouns it has chosen to ascribe to Mary Magdalene. Sinner. Prostitute. But she is best remembered for a verb – for turning. In the garden, once Jesus calls her name, she turns away from the empty tomb and turns towards Him. In doing so she turns away from her preoccupation with the missing body, away from that which can be named – the nouns we attempt to translate, to conquer by our own understanding – away from the objects; the material preoccupations which distance us from each other and from God – and she turns towards the Living and Risen Christ.

Let us celebrate Saint Mary Magdalene by defining the story of our lives not by our nouns but by our verbs. May we all hear the call of our own names and turn towards the Living and Risen Christ.

Listen to our Start:Stop reflection or read the script at this link.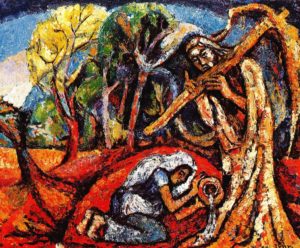 Image : The Resurrection by Jyoti Sahi, 1987