Let the door of our heart be open to receive, O Christ;
the soul of our being unlocked, to welcome you;
and the gate of our life flung wide, for your entering in.
(Ambrose of Milan)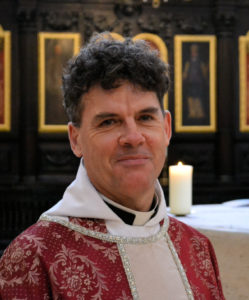 Dear Friends,

We are delighted to begin to re-open the church after the lockdown. In accordance with government guidelines and advice from the Diocese of London, the building will be open for visitors and for private prayer on Tuesday, Wednesday and Thursday between 10.30am and 3.00pm. These timings will be kept under review. Everyone will be expected to adhere to social distancing within the church and an enhanced cleaning regime will be in operation. 
From Thursday 9th July 2020 we are able to hold public worship and will celebrate the Eucharist as usual on Thursdays at 12.45pm. In normal circumstances, our choir would sing beautiful music, including a mass setting, introit and motet and a hymn. To stop the spread of Covid-19, there will be no live music for the time being, seating will be strictly controlled, communion will be distributed in one kind only and we will not be able to gather after the service for our usual lunch. Please only travel to church if you feel safe to do so. We will continue to record our services and upload them to the website. 
If you are unable to travel to church at present, there are a number of ways you can join with us in worship from home : 

SERVICES

Weekly Online Eucharist – A video of our weekly Eucharist together with a link to the order of services will be posted each week to enable us to join together online. We are indebted to Jonathan Hall for editing and producing the videos for us each week. The Eucharist will continue to be celebrated every Thursday lunchtime, as usual but the videos will take a little longer to produce. We hope to publish them online by Saturday evening each week. Find out more here. Please send prayer requests for inclusion as part of the service by email to priest@ststephenwalbrook.net.

Choral Classics – Available online from Monday at 1pm, join us for fifteen minutes of divine choral music and readings, based on a different theme each week. Find out more here.

Weekly Start:Stop Reflections – Our weekly Start:Stop reflections will continue and will be available as an audio file to listen to online or download. We hope to make the reflections available each Tuesday from 4pm. Find out more here.

Morning Prayer by Telephone Conference Call – Every Wednesday morning at 9am. Find out more here.

Daily Night Prayer – Can be accessed online through the ministry of the London Internet Church, which is based here. A new video recording is published at 00:00 each day. Join in at any time. Find out more here.

We look forward to our normal pattern of services and events resuming as soon as possible, including our monthly Choral Evensong  our weekly Organ Recitals and Lunchtime Concerts and our popular Community Choir.  

PRAYER REQUESTS

Prayer requests and requests for candles to be lit can be made via the London Internet Church and these will be responded to.


KEEP IN TOUCH WITH THE LATEST NEWS!

We will be circulating a regular newsletter by email. Please sign up to make sure you receive a copy. If you miss an edition, a copy of our bulletins can be found on the news page of our website. A group of parishioners will be making regular phone calls to members of the community who live alone. Please advise me of people of whom you are aware who would appreciate our calls.


SOCIAL MEDIA

Please follow us on Twitter or Facebook for regular updates, prayers and readings each day from Monday to Friday.


CONTACTING THE CHURCH

The church is now closed. As far as possible, the church team will work from home and so response-times to messages left on the phone may be extended but please do keep in touch by email or phone.


There are many excellent online resources to support prayer and study at home, including the daily morning and evening prayer provided each day through the Oremus website 
Please stay safe and well and be assured of my prayers for you and your families.
God of compassion,
be close to those who are ill, afraid, in isolation 
or concerned about their jobs and businesses
In their loneliness, be their consolation;
in their anxiety, be their hope;
in their darkness, be their light;
through him who suffered alone on the cross,
but reigns with you in glory,
Jesus Christ our Lord.
Amen.


Blessings



Reverend Stephen Baxter
priest@ststephenwalbrook.net