Let the door of our heart be open to receive, O Christ;
the soul of our being unlocked, to welcome you;
and the gate of our life flung wide, for your entering in.
(Ambrose of Milan)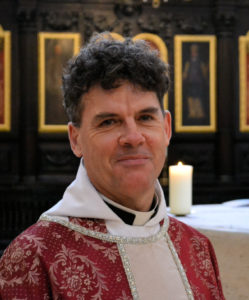 UPDATED 11th January 2021

I do hope that you and your loved ones are well. In the light of the very concerning increase in the rate of infection in London, we have sadly decided to close the church for public worship and visitors. We hope and pray that this third lockdown will be successful in significantly reducing the spread of the virus and in protecting key workers in the health, care, transport and other sectors.
We need to be particularly aware of those who are especially vulnerable: those whose health is fragile, those whose livelihoods are jeopardised, those on their own with loneliness compounded by the cold and limited daylight. Please contact me with specific prayer requests and with names of those who would appreciate a phone call.
Our administrator Elizabeth and verger Lee will return to furlough during the lockdown. I am extremely grateful to them for their support and patient understanding in these worrying, uncertain times and I greatly look forward to their return to full action at the church as soon as possible.
With effect from Monday 11th January 2021, the following online ministry will be provided:
1.   Recordings of Start:Stop reflections, the Thursday Eucharist and Choral Classics (from February) will be posted on the website;
2.   Morning Prayer by conference call at 9am on Wednesdays – dial-in on 0330 9981 320 – access code: 464351#;
3.   Morning and Night Prayer every day through the London Internet Church section of the website;
4.   Communal Zoom Call on Thursdays from 7.30-8.15pm to which everyone is invited to participate to chat, listen and encourage each other.  This will close with the brief service of Compline. The link for this communal zoom call is https://us02web.zoom.us/j/7739658327 – Meeting ID: 773 965 8327
Many thanks for your greatly appreciated support and your varied, valued contributions to the life of St Stephen Walbrook.
Keep us, good Lord, 

under the shadow of your mercy
in this time of uncertainty and distress.

Sustain and support the anxious and fearful,

and lift up all who are brought low;

that we may rejoice in your comfort

knowing that nothing can separate us from your love

in Christ Jesus our Lord.

Amen.
With blessings and all good wishes

Stephen
SERVICES

Weekly Online Eucharist – A video of our weekly Eucharist together with a link to the order of services will be posted each week to enable us to join together online. The Eucharist will continue to be celebrated every Thursday lunchtime, as usual but the videos will take a little longer to produce. We hope to publish them online by Saturday evening each week. Find out more here. Please send prayer requests for inclusion as part of the service by email to priest@ststephenwalbrook.net.

Choral Classics – Available online from Monday at 1pm, join us for fifteen minutes of divine choral music and readings, based on a different theme each week. Find out more here.

Weekly Start:Stop Reflections – Our weekly Start:Stop reflections will continue and will be available as an audio file to listen to online or download. We hope to make the reflections available each Tuesday from 4pm. Find out more here.

Morning Prayer by Telephone Conference Call – Every Wednesday morning at 9am. Find out more here.

Daily Night Prayer – Can be accessed online through the ministry of the London Internet Church, which is based here. A new video recording is published at 00:00 each day. Join in at any time. Find out more here.

We look forward to our normal pattern of services and events resuming as soon as possible, including our monthly Choral Evensong  our weekly Organ Recitals and Lunchtime Concerts and our popular Community Choir.  

PRAYER REQUESTS

Prayer requests and requests for candles to be lit can be made via the London Internet Church and these will be responded to.

KEEP IN TOUCH WITH THE LATEST NEWS!

We will be circulating a regular newsletter by email. Please sign up to make sure you receive a copy. If you miss an edition, a copy of our bulletins can be found on the news page of our website. A group of parishioners will be making regular phone calls to members of the community who live alone. Please advise me of people of whom you are aware who would appreciate our calls.

SOCIAL MEDIA

Please follow us on Twitter or Facebook for regular updates, prayers and readings each day from Monday to Friday.

CONTACTING THE CHURCH

The church is now closed. As far as possible, the church team will work from home and so response-times to messages left on the phone may be extended but please do keep in touch by email or phone.

There are many excellent online resources to support prayer and study at home, including the daily morning and evening prayer provided each day through the Oremus website 
Please stay safe and well and be assured of my prayers for you and your families.
God of compassion,
be close to those who are ill, afraid, in isolation 
or concerned about their jobs and businesses
In their loneliness, be their consolation;
in their anxiety, be their hope;
in their darkness, be their light;
through him who suffered alone on the cross,
but reigns with you in glory,
Jesus Christ our Lord.
Amen.